Oil Lubrication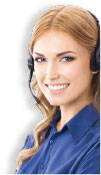 Under +49(0)7431 1288-0 we are at your disposal.
Your desired size is not listed? We also manufacture individually. Give us a call!
Oil lubrication requires an oil port in the nut and wipers. Steinmeyer ships all ball screws lubricated ready for use. If the screw is to be used with oil lubrication, please notify us when ordering - we will then pack the nut with a special grease, which requires no cleaning prior to use. The grease will be washed away with time and be dissolved in the oil. The grease fill protects the screw during shipping and storage, and keeps it lubricated until the oil supply is operational.
Oil should be injected approximately four times per hour. Recirculating oil systems should include a filter with a 10 micron mesh and a cooler to keep the oil temperature below 50° C as it enters the ball nut. Oil mist is only recommended when there are no wipers and contamination is very low. Oil bath lubrication can only be used for very low speeds. Oil drip and loss lubrication is possible, but oil quantities must be observed.
Only oils with wear inhibiting additives should be used. These have the ability to lubricate in conditions of boundary friction, when speeds for EHD-lubrication are insufficient. We strongly recommend CLP grade gear oil per DIN 51517-3 or equivalent. Do not use way oils or hydraulic oils, even if they are labeled "high pressure"!
Felt or combination wipers seal the nut. It is therefore important, when using such wipers, that the recommended oil flow rates are not exceeded. The nut may become overfilled causing overheating at higher speeds.
Service life of oil lubricated ball screws exceeds the life that can be expected with grease lubrication in many cases, but only if EHD lubrication can be reached over most of the duty cycle.