Fatigue Life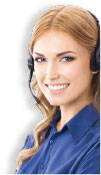 Under +49(0)7431 1288-0 we are at your disposal.
Your desired size is not listed? We also manufacture individually. Give us a call!

Fm Permissible mean load for a given dynamic load capacity and life

Ca Dynamic load capacity required for a given mean load and life

L10 Fatigue life for a given dynamic load capacity and mean load
The useful life L10 can be expected to be reached by 90% of a sufficiently large number of identical ball screws having a load capacity Ca, when subjected to the mean load Fm.
As an example, the life L5, which is 62% of L10, will be reached by 95% of the ball screws.
Aerospace applications require a more detailed reliability analysis, for which the FMEA (Failure Mode and Effects Analysis) and fault trees are used to determine MTBF (Mean Time Between Failure) or MTBUR (Mean Time Between Unscheduled Removal).
Calculation of the life expectancy is based, according to ISO / DIN standards, on Hertzian pressure. Theoretical load capacities are then modified with factors derived from experience. These corrected values allow very dependable predictions of ball screw life, under normal conditions, if the calculated life expectancy falls within this range:

According to ANSI ball screw standards, the dynamic load capacity is the load whereby the ball screw reaches a life of 1 million inches of travel (ISO/DIN: 1 million revolutions). For a direct comparison with ISO/DIN numbers, the ANSI load capacity must be converted as follows: